1. The invention:
Bicycle with compressed-air motor
The problem solved:

Full environmental solution for second driving of bikes




Definition:

The invention is a standard bicycle that is equipped with a compressed-air motor type auxiliary drive. The driving energy, the compressed air, required for one day average use is stored in a tank. No harmful emission is produced during the operation of the motor.

Presentation:

The air motor

(

Innofluid, 200W, vane type) is connected to the first wheal of a regular bicycle with transmission and free wheal mechanism. The compressed air is storage in a carbon fibre full wrap composite cylinder (9 litres, 300 bars; www.luxfercylinders.com). The working press is 6,3 bars. The compressed air driving is used if the force of pedaling is insufficient. The range of compressed air driving without pedaling is 5 kilometers.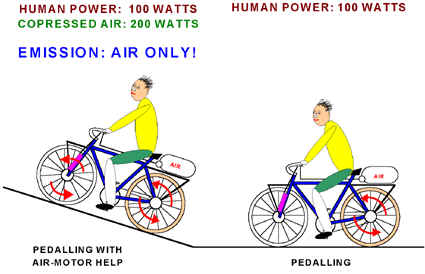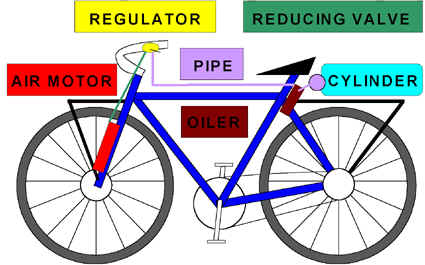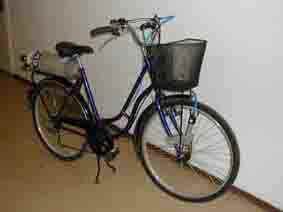 2. The inventors:
3. The protection:
Form:

patent application

(P0300229)

Priority:

28. 01, 2003.

Countries:
Owner of patent:

Inventor

s
4. Business purpose: licensing
5. Contact: